Game Banner Exchange Networks
As soon as you start your game project you will think over how to drive more and more visitors to your website every day. That is why participating in a banner exchange program is an effective and inexpensive way to drive traffic to your web site.
But first of all let us give you slight information about banners and networks where they are attached. Banner Exchange is an advertising network, the members of which are ad spaces. Most of the banner exchange networks are public, i.e. every web site, coordinated with advertising policy, is able to be the partner of this process.
The idea of all banner exchange networks is quite similar. In this case the partner of banner exchange inserts the HTML code to display banners of other members for everyone into his web pages. In his turn the partner is given the opportunity to submit his own advertisement at other web pages. The amount of displays of your advertisement at other's sites is in direct proportion to the amount display of partner's advertisement at your web site. The owner of banner exchange network takes on commission from the partners. Usually it is about 15-20 % from all banner impressions that can be used at his discretion (according to the advertising policy), for example, to sell it to advertiser.
Since we speak about generating game traffic, it should be promoted on entertainment-related contents. Your goal is to "exchange" traffic with your partners and make your visitors to stay at your web site. Among different game banner exchange networks, let us point out the best ones:

ArcadeBanners
Arcade Banners – Gaming Banner Exchange offers quite reasonable terms. Exchange Ratio is 10:9. That means for every ten banners displayed at your site, your banner will be displayed at least nine times at other sites. After your first week active, you will get 25000 free displays. The banner should be placed at first 480 pixel of the page. The other keys:
Target game traffic
Discounts to a great order
Security All views, clicks, use rips are logged and analyzed
Instant statistics
Fast activation
If you have spare money you may buy displays to receive more visitors. But if are not going to waste money on impressions, you can display banners on your web site. In this connection Paypal will be rather useful. You can get benefits from this system if your banner has a high CTR. To increase CTR of your banner, it must be cute and contain catching information. It all depends on you and your creative work.
Also there is a plan for those partners who have several subsidiary ad spaces and one main site head-liner. The displays remove on subsidiary ad spaces, but links of your displays lead to the head-liner.
The statistics page is common and simple. The statistics is shown by month in view of day.
By the way, free e-mail accounts are not allowed.
In conclusion, Arcade Banners is a fine tool to boost target traffic to your sites.

GamesBannerNetwork
GamesBannerNetwork is another banner exchange network. This very network is a target traffic audience of casual games on PC, MAC, and Flash games, of course. GamesBannerNetwork begins its work in 2001 and keeps its leading position.
The audience of visitors:
The amount of impressions per day is 3 000 000 – 4 000 000
Average CTR: 1.65%
Geography: USA 25% , UK 5%, FR 5%, Canada 4%, Germany 3%, Italy 2%
For the editor of games these are several interesting features:
50 000 free credits for joining GBN
100×100/468×60/120×600 and other banners sizes supported
Five Exchange Zones: Arcade, Dress up, RPG, Gambling, Adult
Possibility to use Jpg, Gif, Png, Flash banners
Games Banner Network uses the CTR a Web site generates to calculate its commission:
A Web site with a CTR of 5% or higher earns a 10:10 exchange ratio
A Web site with a CTR of 3 to 4.99% earns a 10:9.5 exchange ratio
A Web site with a CTR of 2 to 2.99% earns a 10:9 exchange ratio
A Web site with a CTR of 1 to 1.99% earns a 10:8 exchange ratio
A Web site with a CTR lower than 1% earns a 10:7,5 exchange ratio
A Web site with a CTR lower than 0.3% earns a 10:7 exchange ratio
Flexible rate makes the members of the network work harder to increase CTR and it is profitable for each partners.
The distinguishing feature of GamesBannerNetwork is the use of Paypal, RegNow, checks, and Bank wire. If you have some doubt in this network, let us show you the partners of it.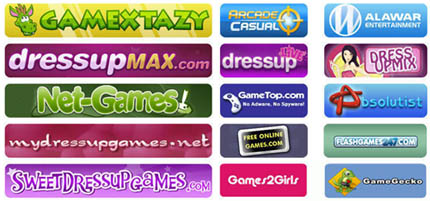 MoreGamers
It is Game Banner Network. All sites are divided into three levels:
Basic. It is common site without any special terms or offers.
Premium. It is impossible to place banners of other networks. There are privileged members, under favorable conditions.
Paid. It is sites with a CTR higher than 1%. The network is able to buy impressions for U.S. traffic. The price of purchase depends on quality of the traffic. The system buys only American impressions!
The main features:
Exchange ratio is 10:9
GIF, JPEG, PNG or Flash, seize 100×100 is supported
Detailed statistics: impressions, clicks, CTR
GEO targeted traffic
MoreGames does not display advertisements of the following nature: gambling and casino, dating, nudity, adult, alcohol, tobacco, racism and other illegal activities.
Like other banner exchange networks MoreGamers offers its members free banners. To use them you should have your web site of the first level (no free web hosting), then choose banner and send the request.

Gamecetera
GameCetera does not differ far from other banner exchange networks. All sites are entertainment-related.
Among its peculiarities we should point out:
There is a restriction on using of others banner networks: the banner of other network must be placed at the distance of 600 pixels from the GameCetera banner or further.
Support for 100×100 and 125×125 banners.
Members have the right to sell impressions to the third parties, but it is prohibited to sell impressions with lower price than $0, 40 CPM.
Exchange ratio is up to 10:10 sometimes.
The site must be in English language.
In addition, the average CTR is about 1,4.

Funklicks
Funkclicks is rather old banner exchange system for game web sites.
Support for 100×100 and 125×125 banners.
4 000 000 clicks per month
Sophisticated anti-abuse technology.
Automated real-time impression quality control protection for ads.
Manual review of stats and logs.
Thus you can choose one of these banner exchange system that is pointed out above. To our humble opinion it is worth to place banners on these five systems at once. Try your hand at banner exchange on your site with partners and boost your traffic.
No related posts.