Alawar affiliate program – overview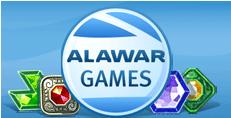 The partner program for casual games sale Alawar is the main competitor for GameBoss affiliate program in Runet. The Alawar Company has been working on Russian market since 2004 and now has about 85% off all games sales in Runet. Alawar Entertainment does not only publish and distribute mini-games, but also develops its own games, which are notable for their quality and can be found in casual games world top charts, and which become available for realization in affiliate program. There are more than 400 games in the base.
To begin with it is necessary to say that the affiliate program is available in Russian, English and Polish languages now, and the German program is on starting stage. All three different in languages affiliate programs have different content bases and exist independently from each other. So if you decide to join not only Russian, but also others systems, you must be registered in Russian, in Polish and in English programs. It is absolutely inconvenient and takes a lot of time, but this question interests only 1% of affiliates, and the Alawar Company doesn't think it is necessary to make some efforts for solving this problem.
After successful registration in the partner program you get the PID – the partner identifier. There are two ways of game content placing as a show-window from Alawar on your resource: ready Java-script code which needs to be built in a site, or a XML-file, which processing is completely on your shoulders. Both variants, despite the simplicity of their use, which Alawar states, demand a lot of knowledge, efforts and time. But it is not a problem for Zamangers, because with the help of  Zamango Money Extractor plugin all Alawar games will be automatically published on your resource and all novelties will be available for users.
Also you can see the third variant of showroom placing in the dashboard – Flash. But here we are talking about placing of chosen online game on your site page and not about placing of a showroom with games. I.e. you've been given the html-code of a game that can be used on any website, which supports the possibility of flash-object inserting. The link for full version downloading which contains partner's ID for uploads and purchases recording are specified in html-code, that is why all placed online games work to increase the profit of partner program's participant.
If you don't have the possibility to place a show-window, Alawar allows placing banners with your reflink. In banners collection which is available from the dashboard, you can find one that is suitable for your site: there are many banners of different sizes. The banners for new games sets are the bonus for Alawar partners.
So you can earn money from joining the Alawar affiliate program in three ways: by placing of a showroom with all games, by placing of some online games and by banners placing. And judging from the partners' top you can earn much money, at least the Alawar partners earn more than the GameBoss partners:
TOP-10 payments to the Alawar partners in September, 2009

place

income ($)

sales quantity

1.

6395

4637

2.

1973

1431

3.

1612

1169

4.

1258

912

5.

1220

885

6.

1151

835

7.

1117

910

8.

1089

790

9.

1062

770

10.

973

706
The technology of partner's sales control is similar to the technology used in the GameBoss affiliate program. The unique links, which contain partner's ID, are formed for games downloading. After downloading, installation and trial time expiration the wrapper blocks a game and suggests buying a key. Key purchase is carried out by SMS, bank remittance, and ecash. For each game purchased by a user from the partner's resource affiliate gets 50% of the profit (minus billing expenses). On average it is 1,75USD from every activated game. The commission sum for each sold game depends on the way of payment chosen by the user and on the country, where the game was purchased.
The minimum sum of payment varies depending on a way of means output. If you transfer money to a bank account, the minimal sum will be 200USD, for other ways of transfers – 50USD. However, after 3 months of working with Alawar the partner can derive any sum, but after he discusses this question with the support service. Means are derived with the help of the most popular payment systems: WebMoney (Z), ePassporte, bank transfer in rubles or dollars, etc. If all suggested by Alawar ways don't suit you, you can contact the support service to solve the problem. The Alawar affiliate program is rather flexible and any problem can be resolved through the support service. But you will need some patience because, despite the statement that they consider all questions within 24 hours, the answer sometimes comes after 2-3 days of waiting, and even after a week. How one of the assistants, responsible for the affiliate program, states, all dialogues with partners are personalized, they don't use the templates. This is true – sometimes employees of the support service forget about even an elementary greeting.
You can receive payments 2 times a months, but only after advance application for the fulfillment of the payment. Besides it is impossible to control real income from game selling, e.g. within a week or a months, because the amount due to you is updated only once a month or will be accessible only after application. The only thing that the affiliate program's statistics gives us is the amount of downloaded and purchased games. Besides it will be silly of you to hope to receive money right after the application. Payments are 2 and even 3 months late. It happens because, as Alawar states, the aggregators and cellular providers do not send them reports and money for actual sales immediately. Alawar has solved this problem by creating the system which would count every sale from the average data, and after the appropriate report, it would be corrected, plus or minus (if sales were different from the "guessed" average value). The partner receives the same sum of money, but much faster. All corrections details concerning updating will be accessible. But this "guessing" is rather embarrassing.

So you should join the Alawar partner program undoubtedly. One of the reasons is large and daily augmented games base, the second reason is many exclusive games which are not available in other partner programs, e.g. BigFishGames or Reflexive, during the first months, however, these games become very popular among users, and the main thing is that these games are being purchased. Technical realization of a showroom placing is difficult and not available to anyone, but this problem can be easily solved if you use Zamango Money Extractor plugin. All English, Polish and Russian games from Alawar are available in Zamango base; updating and replenishment are made daily.