Reflexive's affiliate program overview, part 1

So, Reflexive Company was established in far 1997. In that time the company specialized in developing PC games. By the year 2009 their team of developers managed to make about twenty games. Among them you can find Crimsonland, Ricochet: Lost Worlds, Ricochet: Recharged, Wik and the Fable of Souls, and of course Big Kahuna Reef and Big Kahuna Reef 2. We seriously doubt that there is a person in this world who never played at least one of them. Approximately in 2000 the company started its affiliate program called GameCenterSolution, which offered people to sell games and get a percentage for this.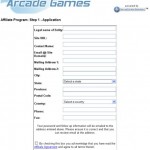 This program is designed for people who are interested in games and eager to earn money. To participate in this program you don't need to have your own site, or some kind of specialized knowledge. Any one can enter the program cause GameCenterSolution doesn't require any financial investments. To sign up for the program first you have to read Affiliate Agreement and then fill in a small registration form. The developers divide this process into three stages.
1. Reading the agreement and filling in the Registration Form.
2. Choosing the form of getting and giving away the content.
3. Receiving 40% from each sale.
Now we would like to tell you about the second step. This affiliate program has a vast toolbox.
Banners. The easiest way is to place Reflexive's banner on your site. After users click the banner, they get to the Reflexive.com site. The important thing is that your affiliate ID will follow those users everywhere they go on the site. If they buy something the sale goes to your account and you get your 40%.
Store Front – is a good choice for the beginners. Banner with your site's logo will be placed in the header, furthermore, your site will be hosted on GameCenterSolution.
iFrame. It is an interesting way of placing content on your site. Several lines of code and you have a frame on your site, which displays aggregated information about the games you sell. The developers add various games, change tops, carry out marketing mix strategies, and you don't have to do anything at all, you use the results of their hard work cause your frame is adjusted automatically.
XML Feed. And of course XML Feed, option for those, who was reading about previous methods with a smile on their faces. Yes, XML Feed allows you to get and use the content any way you want. To use this option you will have to get some specialized knowledge, but we guarantee you that the game is worth the can die.
After you have studied the program, seen their site, chosen your way of getting the content, you probably have one question left: What is it all about? But only the most patient readers can find out the answer in the conclusion to this article.
The main distinctive features of the program are:
you get 40% from each sell
at the moment the program offers 1186 games to sell
real-time statistics of sales
game pages, pages where you buy games, and game installer can contain your logo
you have access to your buyers e-mails.
On the whole, we can say that this program is stable, reliable, and is working for a long time already, which is important. Anyway, if you want to earn on the market of casual games we recommend you to try this program, cause the appetite comes while eating, and its impossible to get your own impression until you try.