New tool to increase your sales by Reflexive
Reflexive affiliate program goes on to please its affiliates creating a new tool to increase sales, namely Featured Deal. This widget let you get ready web banners for your site that links immediately to the page with the information about special offers.  Another words widget is a banner with informative web page at the same time. We advise you to see the example how to put widget on a web site.
Technology of working with widget is easy:
1) You choose the size of image: 160×200, 160×600 or 728×90,
2) Choose the platform: PC or Mac,
3) Get HTML-code that can be embedded into your web site.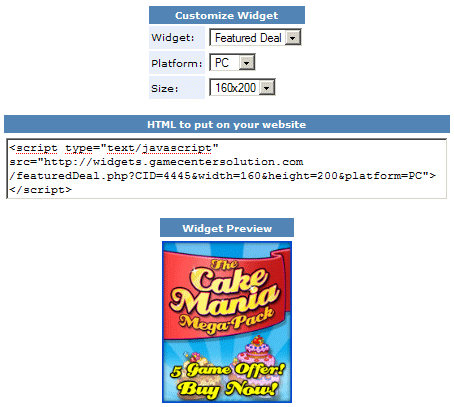 You can test widget Featured Deal at the affiliate's board: Sales Tools>Widgets.
This tool simplifies the work for all affiliates, since there is no need to invent your own banners, create new pages on your site with special offer. You are to paste the embed code into your site.
The other advantage of Featured Deal is that you cannot trouble about the banner removal because of lapse anymore. Widget reloads by himself, therefore your users will see only fresh information about sales promotion and special offers.
You can try this widget by now as all affiliates are able to use new bundle – Cake Mania Mega-Pac:
Games: Cake Mania, Cake Mania 2, Cake Mania 3, Cake Mania: Back to the Bakery, Cake Mania Main Street.
Platform: only РС.
Effective period: to 3d of January, 2010.
Price: 19.95 USD (saving 39%).
Those who does not want to use new widget and prefer to customize everything as they like, the information about bundles is still available at Sales Tools>Bundle Info & Links section.
On 4th of  January, 2010 on Reflexive affiliate program will be available new special offer from Hipsoft.