Reflexive's affiliate program: tools

You have already wrote in a general way about the GameCenterSolution affiliate program from Reflexive (read  in the article Reflexive's affiliate programe overview)
This article is for those who have chosen the way of a content receiving and have the favorite game project started. Now you have a new task: how to receive statistics, analyse it and make a decision on increase of game sales from your resource. The Reflexive program's control panel is unlikely the best example of report among all the other partner programs. Here you can find any necessary information.
Well, the following types of reports are available for a partner:
Affiliate Sales Totals. Gives the information about final quantity of sales in the context of channels (for those who have many game projects on one affiliate account).
Affiliate Sales History. More detailed sales report with the possibility to see all kinds of datas, for example, game title, country name, IP address, purchaser's emails, etc.
Affiliate Downloads. Gives statistics about game downloads in the context of channels.
Earning Totals. Report about general earnings amount during fixed period.
Earning History. Complete report about earnings and payments.
Each report has a huge number of different parameters:
Date Range: selection of statistics period

Distribution Channel(s)

: selection of one, several or all sales channels

Game(s)

: data revision on all games or concrete one

Platform

:  platform choice (PC/MAC)

Total by

: selection of a report parameter: by days, weeks, games, channels, etc

Data Columns

: selection of data columns

Graph(s)

: selection of fields you want to make a graph for.
After you have you report parameters set up, you can use the feature of the custom report save (custom report). The saved report standard appears in the control panel, and you can receive it by simple stroke of the mouse button without recurring parameter selection.
Any report can be saved in XML or CSV format for possible processing or visualisation of the received statistics by other means. Moreover, if you don't want to enter the control panel every time when you need to view statistics, you can see a saved custom report via a link in Reports>Download (to do it  you should  insert  you IP address in the list of authorized addresses in Accounts>My user>Authorized IP Addresses).
One of the most interesting features in GameCenterSolution's report system is the possibility to receive buyers' e-mails for the further work with them. The list of e-mail addresses is available in the report Affiliate Sales History, as well as in Order Feed (Sales Tools>Order XML Feed). It allows to work more effectively, offering them another games that are similar to those they have already bought. The only problem with it is that not all buyers allow to display their e-mails and receive new information. Nevertheless, after reaching the certain number of buyers, availability of their e-mails turns to be a serious help for increasing the sales.
In the GameCenterSolution's affiliate panel you can find a huge number of content tools (Sales Tools>Channels). In the previous article on Reflexive's program we have already wrote about banners, Store Fronte, XML feed and iFrames. Here we could draw attention to the other features. First, you can find all necessary information about any game: buy link, download link, all descriptions, images, etc in the chapter Game Info & Links. Secondly, in Game Filters you can find a unique feature of game filters that you will find in no other casual games affiliate programs. You can easily select games to display on you site and games to blacklist:
There is another important feature of Reflexive's partner program – content brending. You need only to load three images with your logo (Sales Tools>Channels>Brending Images) and they will be integrated in all games distributions. Moreover, loaded images serve for brending of game purchase's page and support service's page. In other words, if you don't want to create a support page, you can use the page offered by the affiliate program. You can find the link to this page and its settings in Support.
After you have started the channel of sales and have sold necessary number of games, there is a question – how to receive your earnings? Times when GameCenterSolution gave possibility of getting money only with the help of check have sunk into oblivion. Now there is an opportunity to choose from 4 accessible ways of obtaining:
payment via ACH (Automated Clearing House, the USA clearing system) – it is quickly and reliable, but it is necessary to have an account in the USA, and that is problematic enough for individuals who are not USA residents.
payment by check. You must have the post address and patience before you can cash it.
payment via PayPal. Your email at GameCenterSolution must coincided with contact one in PayPal account.
bank remittance (Wire Transfert). One of the most simple and fast ways, you must have the bank account, and also know its requisites.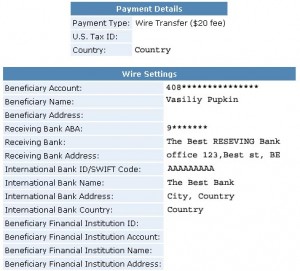 To receive money through bank remittance you must fill in a small form in control panel. The data can be specified in the bank where you opened the account.
GameCenterSolution will withdraw 20$ from your earned means for bank remittance and 5$ for check sending. The minimal sum which you can bring equals 100$.
Now you have the necessary knowledge to start working with the GameCenterSolution affiliate program. Good luck!