10 Games Bundle for $29.99 from Reflexive.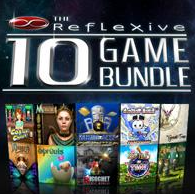 Reflexive has started to realize the plans on development of the affiliate program.
Now they offer the bundle of 10 games "10 Game Bundle" to all participants of the affiliate program at unique low price – $29.99
The collection includes 10 following games:
Airport Mania: First Flight (1079)
Big Kahuna Reef 2 (503)
Ricochet Lost Worlds (96)
Mosaic: Tomb of Mystery (492)
A Fairy Tale (1355)
Sprouts Adventure (1384)
Build in Time (1131)
The Great Tree (1007)
Monarch: The Butterfly King (755)
Costume Chaos (1283)
The collection is accessible both for Windows PC, and for MacOS. The offer is valid till November, 30th 2009.
More detailed information about "10 Game Bundle", links to purchase, various promo-banners can be found in GameCenterSolution panel. Description for this collection is not provided, you should write it for the users yourself, the link to downloading also cannot be found, it will be accessible for user after payment. Banners of 5 various sizes are offered to partners, choose the one which suits you and place it on pages of your resource to inform your users about the given offer. You receive 10.5 USD from each bundle sold.